This is what you need to know to be a good netrunner. Everywhere you go in Night City, you can see the technological advances that Cyberpunk 2077 said would happen. Almost every person on the street has at least one eye implant, and half of them have cybernetic limbs. Your enemies have become more like machines than people. If you want to stay alive on the streets for more than a few hours, you can't be tech-illiterate.
Maybe you want to be the next famous hacker who breaks into computer systems, spies on foreign dignitaries, and earns a respected codename on the internet. Or maybe you just need to cut some bonus items away. No matter what you want to do with breaching, these are the skills you should focus on because they make the most of every Cyberpunk 2077 skill point you spend.
Compression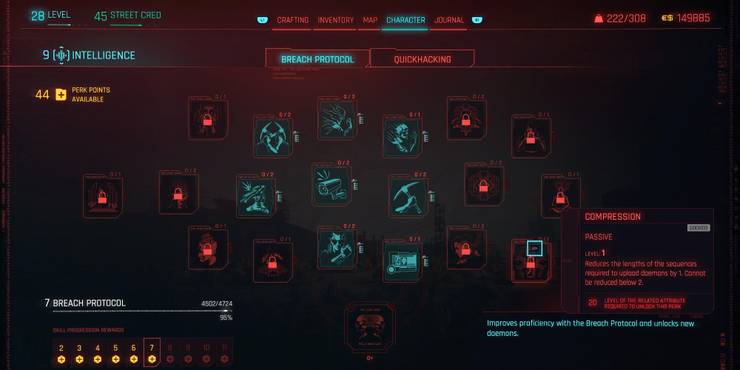 This benefit can be very important and could mean the difference between being able to upload one daemon or five. This could make all the difference in Night City.
Reducing the sequence might not seem like a big deal, but think about how this makes most of the sequences only two digits long. This makes it much more likely that you can upload every daemon you've learned so far.
Head Start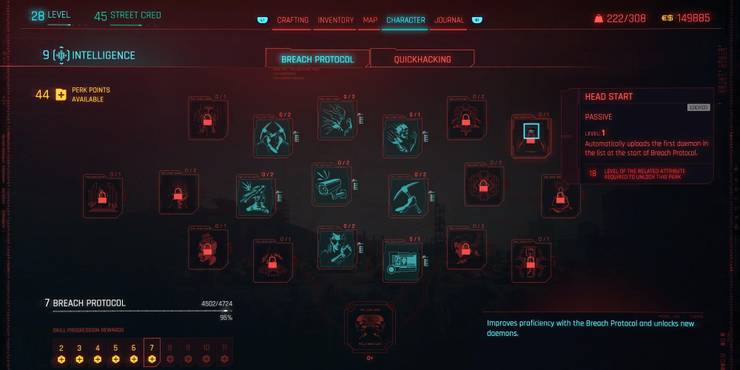 The best daemon is the one that doesn't bother you. If you look at your choices carefully, you'll have a much better chance of getting everything you want uploaded after the first one is done.
Usually, this daemon tells you where everything on the network is, so you can see every camera, turret, and robot for free.
Turret Tamer
There is another daemon here that can turn off all turrets, but why would you want to do that when you can make them all shoot for you instead? Choose one or the other, but not both. Both daemons will show up on your list, and taking over turrets while disabling them is a waste of time.
Do yourself a favor and let the turrets take care of the enemy. Either the enemies or the turrets will die, and whoever stays alive will have some of their health taken away. That works out well for everyone.
Advanced Datamine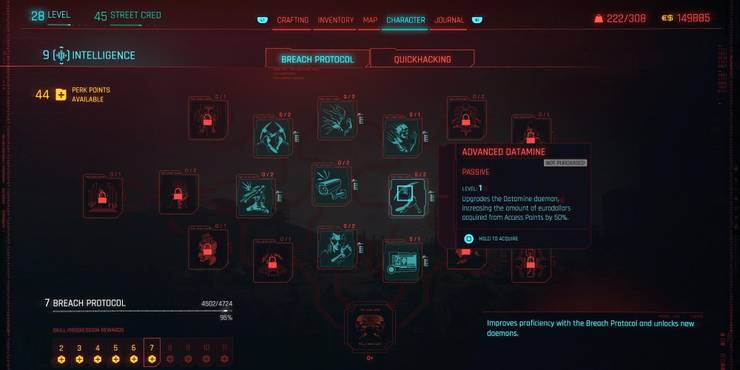 Even if you do every side job in Cyberpunk 2077 game, steal from everyone, and open every briefcase, you won't have enough money. Eddies aren't easy to get rid of in Night City.
Thanks to access points, hackers have another way to get money: they can "redirect" money from processing transactions into their own accounts. Since the money is big, it is well worth your time to increase it (or even double it at level two).
Datamine Mastermind
Why not get some crafting materials if you're going to be datamining for money? If making things is what you live for, then you have to do this.
Even if crafting isn't your thing, you can always sell the extra things you make. The materials are worth a lot, and this skill will eventually double the money gain from the last skill.
Buffer Optimization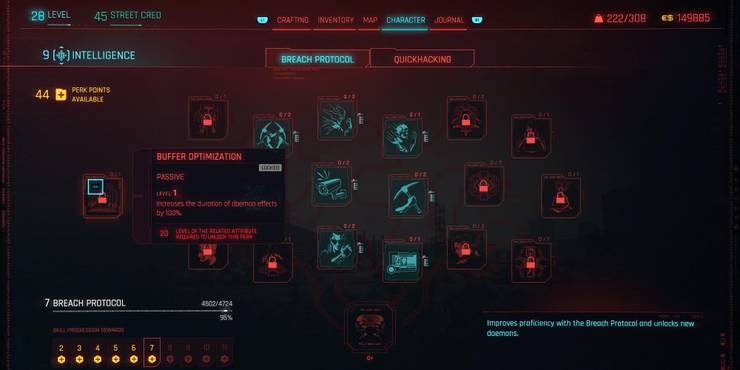 In contrast to quickhacks, you can only break into a security system once per encounter. This means that as soon as you're done, you'll be on the clock. For a quick NCPD crime scene assist, three to six minutes might seem like enough time, but during the main story missions, you'll often get stuck in buildings and areas that take up to twelve minutes to clear, even if you move quickly.
If you pick this up, the benefits you get from breaching will pretty much last for the whole encounter. This can change how you approach some missions and how long you have to check everything you want to check.
Mass Vulnerability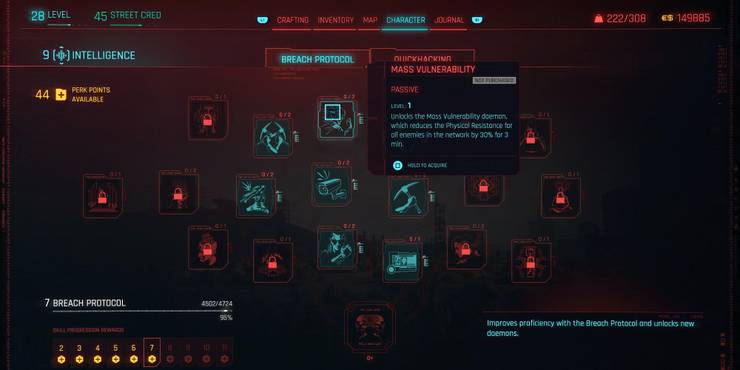 Most of the time, the daemons you get are sent after robot enemies, turrets, and security cameras. Since those aren't your biggest problems, you might think that hacking isn't worth it anymore, but this skill saves the day.
When your physical resistance goes down by 30%, your more traditional weapons do a lot more damage. This is true for everything from baseball bats to shotgun shells.
Mass Vulnerability: Quickhacks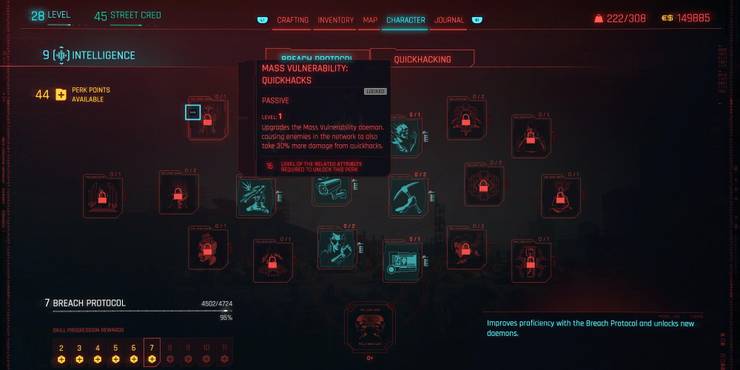 Of course, making the enemy take more damage from quickhacks is a big benefit, but the most important thing about this skill is that it's tied to the same daemon that makes your weapons more effective.
Because of this, you get two benefits for the price of one, and you don't have to worry about typing in another code. Why wouldn't you like it?
Datamine Virtuoso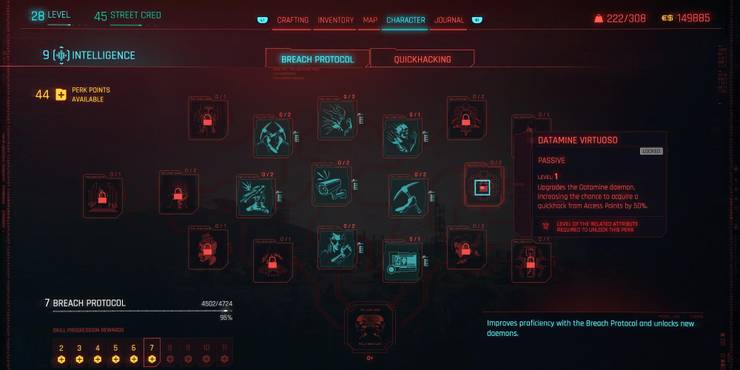 You can get quickhacks in two ways. One way is to spend a lot of money and find the right vendor at the right time. But the best way to get them is to use datamining to find them by chance. Even for a legendary quickhack like Suicide or Cyberpsychosis, the odds are low, but they do exist.
This skill will make it more likely for you to get these new hacks. If you're really impatient and don't like playing games of chance, save the game before you use an access point. Nothing new? Start your Cyberpunk 2077 game over. It will take a few minutes, but it will make the rest of your trip much easier.
Extended Network Interface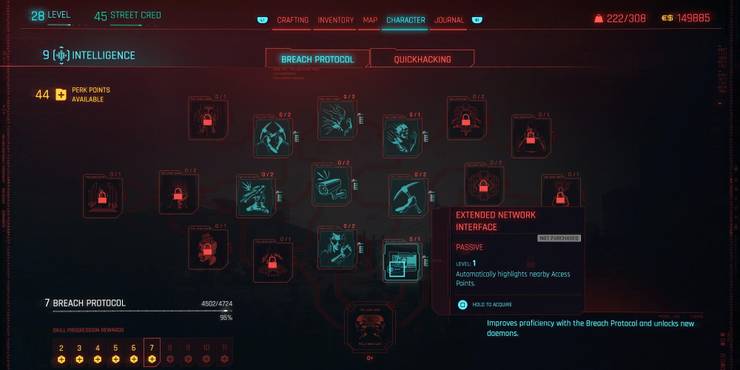 You might not think you need this skill in Happy Wheels, but access points are often hidden behind panels, on rooftops, or under desks. Even in the biggest or most open places, it can be hard to find them.
Every location gives you a chance to not only disable enemy units that are fighting against you, but also to make money and get pieces for crafting. Your wallet will be glad you spent a single point on a skill.